Melting
1500 KW / 300 Hz VIP Dual track coreless Induction Furnace with 2 nos. 2000 Kg Crucibles of Inductotherm Make
650 KW /300 Hz VIP Dual track coreless induction furnace with 2 nos. 1000 kg Crucibles of Inductotherm Make
1 NOS Tilting type ARC Furnace with Refining Facility capacity 2000 kgs
Machine Moulding
Air Impulse High Pressure Moulding Machine – FONDARC (French Design) Rated Production Capacity 90 moulds per hour Box Size 700 X 700 X 300 / 300 mm
1 Pairs ARPA -450 Moulding Machines, Moulding Box Size 650 X 600 X 175 / 250 mm
1 Pairs ARPA -900 Moulding Machines, Moulding Box Size: 1075 X 800 X 300 / 300 mm
Pouring system
Pouring lines with bi-rail handling system.
Pusher & pullers on track for handling mould box make Fondarc .
Heavy Moulding
Mold made in Sodium Silicate, Co2 Sand and No-Bake Molding, in the maximum box size 2000x2000x1000mm and maximum weight upto 2000kg.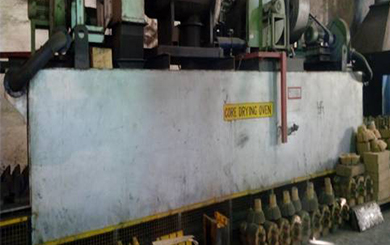 Core Making
Shell core shooter.
Electric oven.
Sand drier, make - Rhino Machinery.
Core sand mixer make- J K Foundry .
Core Making Process
No Bake

Co2 Core

Cold Box

Fully automatic cold box sand preparation & distribution system.
Fully automatic residual gas scrubber for cold box Process.

Capacity : 2 Ton/Hrs
Capacity : 10000 CFM

Fully Automatic Universal Hydraulic operated Amine cold box machine –

Shot Capacity : 7.5 kg
Parting Vertical : 500x250x300mm

Fully Automatic Hydraulic operated Amine cold box machine- 2 nos.

Parting : Vertical
Shot Capacity : 3kg
Tooling Size : 400x250x250mm
Tooling Size : 500x250x300mm

Fully Automatic Universal Hydraulic operated Amine cold box machine:

Shot Capacity : 60kg
Parting Vertical : 700x400x500mm
Parting Horizontal : 700x500x500mm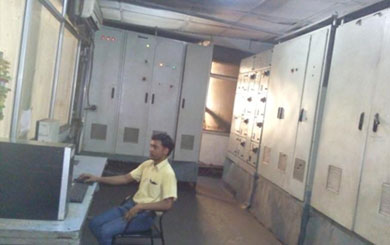 Sand plant
SAND PLANT OF FONDARC MAKE (French Design) Capacity : 80 MT/ Hr with online sand testing, online sand cooling & with fully automated, PLC controlled operations.
Knockout & Decoring
Decoring cutter.
Tumbling barrel , Make - Jadav industries.
Knock out 2000, Make - Sunny precision,
Chipping hammer, Make- Chicago pneumatic
Conveyorised hanger type Shot blasting machines - 2Nos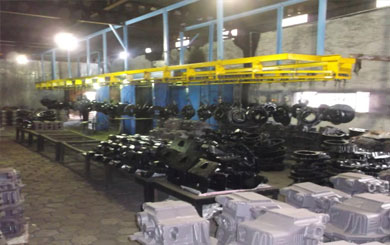 Fettling - Finishing & Painting
Cutter grinder, Make- Chicago Pneumatic.
Swing frame grinder.
Pedestal grinder .
Pneumatic hand grinder, Chicago Pneumatic.
Pneumatic cutter ,Chicago Pneumatic.
Conveyorized, forced air drying painting booth.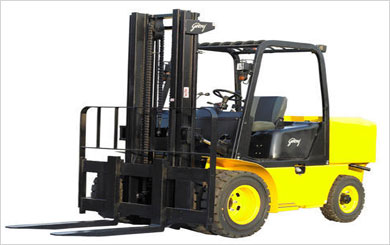 Material handling
E.O.T. crane f/c tapping 3 ton, make- Meeka Industries.
Pouring hoist & laddel(1000kg & 500kg) Make- Dhanprakash,
Electric & power stacker, Make- Godrej.
Bundling machine, Make-Sona Industries.
Fork lift truck Make Godrej.
Pattern shop
Methoding and simulation Through SOFTCAST. Pattern and Core Boxes are made on CNC. Maintenance of the tooling of the Tooling done in-house.
Lathe machine , Make-Kirlosker.
Milling machine, Make- Cooper Engg.
Drilling Machine.